Show Lowest Price in the Last X Days
This plugin is an easy-to-use solution to keep your prices in line with the new EU Omnibus Directive. The plugin keeps track of the running X-day lowest price for your products and shows it at your product and category page.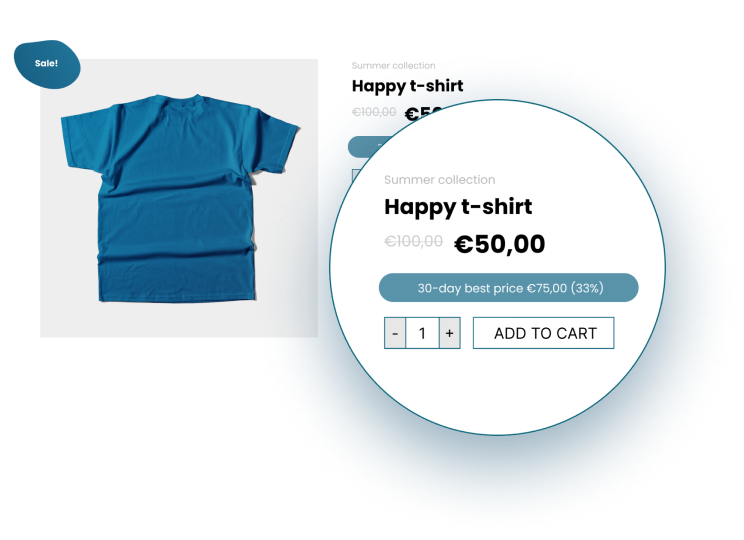 The
"Show Lowest Price in the Last X Days"

is a powerful and essential tool for using Woocommerce in EU

The Omnibus Directive is in place to combat businesses who falsely inflate prices before offering a discount, a tactic (known as "drip pricing"), in order to deceive consumers into purchasing a product or service.
The Show the lowest price in last x days plugin is designed to assist you to make your business compliant with the EU laws.
Learn more
30 Days – Money back guarantee
It works with numerous plugins and via REST API
100% compliant with EU law
"Woocommerce Vasco Integration"

sinhronizira cene, zaloge in naročila med vašo spletno stranjo in Vasco računovodskim sistemom.
Z integracijo Woocommerce Vasco boste prihranili čas, zmanjšali napake in optimizirali svoje poslovanje. Ne zamudite priložnosti za izboljšanje učinkovitosti in natančnosti – začnite uporabljati Woocommerce Vasco integracijo danes!
Za povezavo med Vasco vtičnikom ne potrebujete znanja kode. Namestitev vam lahko opravimo tudi v našem podjetju.
Preberi več
30 dni – garancija zadovoljstva
Varno plačilo s kreditno kartico
Namestitev vam ob doplačilu opravimo mi
Redne nadgradnje in dograjevanje
Slovenska podpora – tudi preko telefona
Dodatne dograditve sistema so možne